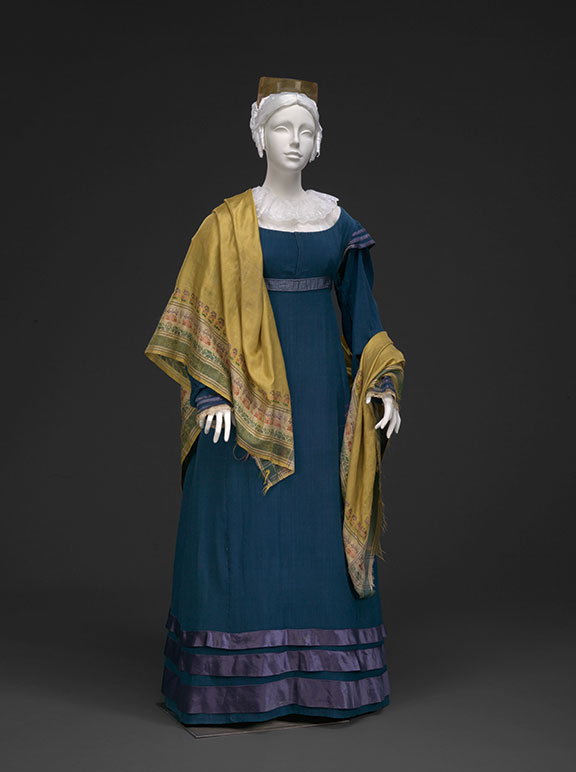 Blue Silk Dress
About 1818—1820
Style: Elaborate hem decorations seen in fashion plates of the late teens get a modest nod in these three graduated bias-cut satin bands. The cap sleeves at the shoulder and fashionably extra-long sleeves are trimmed with triple bands of satin to echo the skirt. The overall effect is subtle, relying on the contrast of texture between the shiny satin and the crinkled crepe.
Fabric: This dress's color may have been the trendy color called "Clarence blue" after the new bride of England's Duke of Clarence (one of George III's sons). Adelaide of Saxe-Meiningen arrived in England in 1818 and set a style for this shade of blue, apparently her favorite color. So much for setting our own styles and rejecting monarchy: forty years after the Revolution, we were happy to look to English royalty for fashion inspiration.
---
Dress, sewn and worn in United States, 76.91, DAR Museum; silk shawl, 1800-20, possibly made in Spitalfields, England, 50.14, gift of Moses Holden; horn comb, about 1815-30, 1895, gift of Moses Holden; reproduction chemisette.
Ms. Cushing wears a black satin dress with a figured ribbon circling the waistline and satin ribbons finishing the puffed upper sleeves. Her lustrous silk shawl, with its multi-hued stripes, contrasts with the somber dress. Portrait of Chloe Cushing by Reuben Rowley of Ithaca, NY, 1826, oil on canvas, 72.48.2, gift of Mrs. James Vaughn. (detail)
A blue dress with ruffled chemisette, hair comb, and gold and bead jewelry in a portrait of Rachel Nixon Hulick of St. Mary Parish, Louisiana, about 1815-1820 by an unknown artist. DAR Museum 79.16, gift of Mary Elizabeth Sanders.