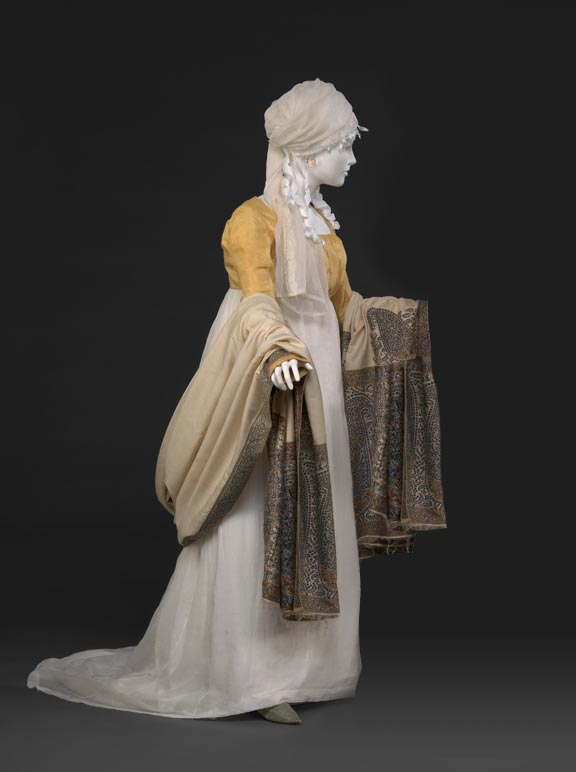 Muslin Dress and Yellow Spencer Jacket
About 1796–1802
Style: At the turn of the century, the neoclassical look reached its  pinnacle in fashion. The pure Greco-Roman style might be emphasized by a hat or hairstyle borrowed from antique statuary or vase painting. Or, on the contrary, the look could be undermined by accessories such as the short jacket and "Turkish" turban seen here. Long shawls from India—or less costly European imitations—were also popular.
Fabric: White muslin (sheer cotton, also called "mull") imported from India was the peak of fashion. The clingy, light fabric created the desired soft drapery effect which intentionally mimicked Greek and Roman statuary.
The yellow spencer is made of a lightweight, crisp taffeta.
---
Indian "mull" muslin dress with train, long sleeves, bib front bodice with lace inserts, about 1798-1800, private collection; yellow silk taffeta spencer jacket, drawstring neckline and waistline, silk ribbon ties, lined in linen, about 1800, private collection;  Indian or European wool and silk shawl, about 1810, 48.57, gift of Martha Van Dyke Strickler;  turban draped with embroidered Indian mull fragments, about 1800-1810, 84.4.10, gift of Henry Abbott; gold hoop earrings, late 18th-early 19th century, 3958, gift of Idella Hyde; Reproduction necklace, courtesy of Dames a la Mode; shoe, 1790s, printed kid leather, label from London maker, worn in United States, 98.56, gift of Helen Ostrander Stockton.
In the high-end London fashion publication Heideloff's Gallery of Fashion (1795-1802), English ladies promenade in twos and threes in fully accessorized ensembles. May 1801, private collection.